DIRECTCALLBACK - Boost your web site sales today!
Would you like to turn more Web site visitors into buyers?
Want to improve customer service and sales?
Want to increase the efficiency of you business?
You can do all these with Direct call back - A powerful sales tool that gives you the option to call your Web site visitors back (from wherever you are), while they visit your site, or whenever it is convenient for them!
With Direct Call back you can contact your Web site visitors:
At their convenience (or yours!)
From wherever you may be!
TRY IT and we will call YOU back NOW!

Here's an example of how easy it is: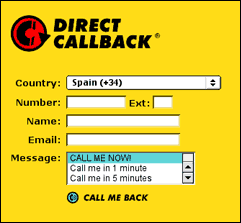 You have Directcallback installed on your web site.

An interested visitor requests a call back by easily filling out name and phone number and choosing when he / she wants to be called back.

Within 10 seconds you receive a special message on your mobile phone, containing the name and number of the visitor. You then simply hit the dial button of the mobile phone, and talk to the visitor. It all takes less than a minute!

Imagine how much more you'll sell with Directcallback
You will contact customers immediately after receiving your information and while they are still hot.

You will effectively lock out the competition by contacting the customer FIRST.

In many sales situations (e.g. travel agency, hotel, golf course, car rental) you can even close the sale over the phone.

The right person, from the right department, calls back the client immediately. This saves your receptionist's and your customer's time - and gets the proper buying information to them straightaway.

You will provide your customers with better service.

You decide if you want to call them back - It's your choice!

Look how Direct call back can help your business
Mobile services or home delivery persons - e.g.plumbers, florists, handymen, painters
From your web site, your customer can request that person you choose in the company to call them back immediately (you use the telephone company of your choice - this is NOT a telecommunications firm - we help you to better contact your clients.)


Reduce wasted worker hours and delivery and fuel costs.


Reduce sales call and delivery lag times - allows you immediate response.


Improve service to your customers.


Real estate agents, Travel agencies, car rental, hotel, golf booking, ticket sales, airlines.


If you have multiple sales agents, Client A clicks on the Directcallback logo and sales agent A calls them back. Client B does the same and is called back by sales agent B -there is always someone to call back the client -EVEN IF NOBODY IS IN THE OFFICE!!
Large corporations, government offices, legal firms,
You can elect workers to callback from specific departments with a call back unique to their department's web page. Example: A customer is requesting help from the billing department in a large corporation; they click on the Directcallback logo on the billing department's page and the correct person from billing calls them back.


Eliminates wasted worker hours and reduces frustrated customers.
Online Stores
According to most marketing studies, most online store shoppers fill a basket without going to payment because of doubts, questions or hesitation - reassure and assist them and increase your bottom line.


Don't lose any more potential buyers to the competition and waste man-hours and company resources. Sign up for a free trial period NOW and beat your competition cold!